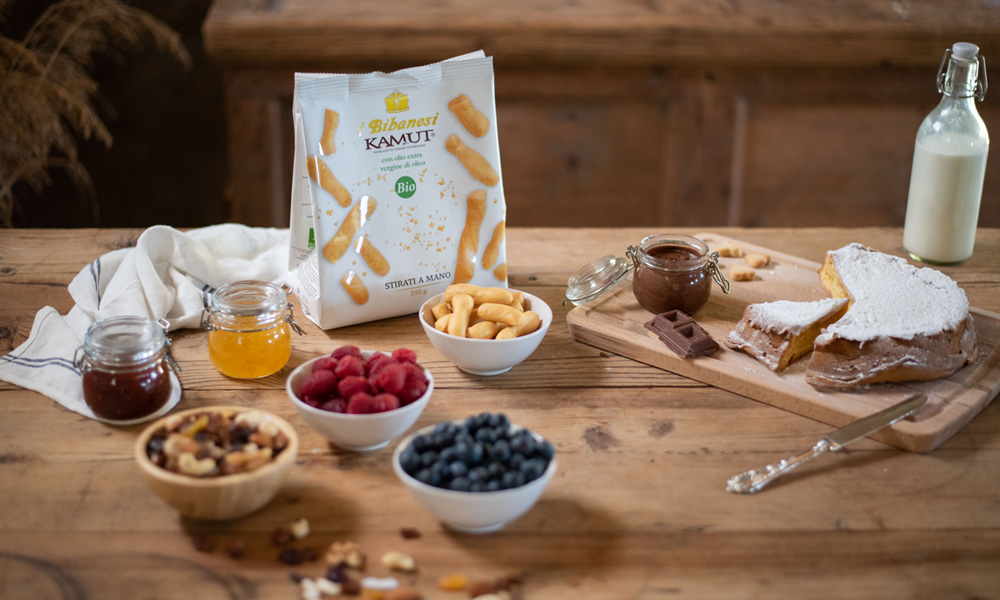 KAMUT® Khorasan Bibanesi with extra virgin olive oil of the organic line
ree from all food additives, organic Bibanesi KAMUT® khorasan wheat breadsticks are handmade following a slow leaving process and enriched by the precious properties of extra virgin olive oil.
Made using only KAMUT® khorasan wheat, an ancient, high quality grain, organic Bibanesi KAMUT® khorasan wheat breadsticks stand out for their light and unexpected sweetness, heightened by a surface sprinkling of corn flakes.
Organic Bibanesi KAMUT® khorasan wheat breadsticks: organic bread with a warm, golden glow and a wholesome harmoious taste.
All the ingredients come from organically grown crops, which are free from all synthetic of chemical substances, in keeping with the principles of a balanced, healthy and eco-friendly diet.
More fragrant than ordinary breadsticks, more delicious than the usual loaves of bread, Bibanesi are unique, each one different from the next. With the crunchy freshness ensured by the special packaging that favors integrity and long conservation.
Let yourself be infected by the love for good and genuine things!